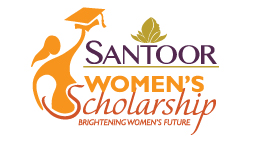 Santoor Scholarship Programme 2023-24
Follow this page to get timely alerts on
Latest announcement about this scholarship
Updates on scholarship deadline extension
Notification of scholarship result declaration
About the Program
A future full of opportunities is now within your reach. Choose your desired career path after Class 12 and Wipro will help you achieve your academic goals.
This year, we launch the eighth edition of 'Santoor Scholarship Programme' for young women. Wipro Cares and Wipro Consumer Care & Lighting Group together have been supporting the education of close to 6,000 young women over the last seven years through the Santoor Scholarship Programme.
Initiated in 2016-17, the programme this year will offer support to 1,900 students, across the states of Andhra Pradesh, Karnataka, Telangana and Chhattisgarh. Under this programme, young women can avail INR 24,000 per annum until the completion of their degree programme.
Santoor Scholarship Programme 2023-24

Deadline15-Oct-2023

Eligibility

Open only for young women from underprivileged backgrounds from the states of Andhra Pradesh, Karnataka, Telangana or Chhattisgarh
Have passed Class 10 from a local government school
Have passed Class 12 from a government school/junior college in the academic year 2022-23
Have enrolled in a full-time graduate programme beginning in 2023-24

Note:

The duration of the full-time graduate course must be minimum 3 years.
Students showing a keen interest in pursuing their higher education in the fields of humanities, liberal arts and sciences in addition to professional courses are strongly encouraged to apply.
Students from the aspirational (backward) districts will be prioritized too.

Benefits:

The winners of the scholarship will be given INR 24,000 per annum till the completion of the course. This amount can be utilized for tuition fees or other expenses incidental to education.

Documents

One recent passport-size photograph
Photocopy of applicant's passbook (other than Gramin Bank)
Photocopy of Aadhaar Card or any government ID
Photocopy of class 10 certificate
Photocopy of class 12 certificate

How can you apply?

Click the 'Apply Now' button below.
Login to Buddy4Study with your registered ID and land onto the 'Application Form Page'.

If not registered - Register at Buddy4Study with your Email/Mobile/Gmail account.

You will now be redirected to the 'Santoor Scholarship Programme' application form page.
Click on the 'Start Application' button to begin the application process.
Fill the required details in the online application form.
Upload relevant documents.
Accept the 'Terms and Conditions' and click on 'Preview'.
If all the details filled in by the applicant are correctly showing on the preview screen, click on the 'Submit' button to complete the application process.
Terms and Conditions
The applicant is required to read the following terms and conditions in its entirety. The candidate on submitting the application is deemed to have accepted the terms and conditions herein.
This page is meant for applying for a grant under the 'SANTOOR SCHOLARSHIP' programme for the year 2023-24, for girl students who wish to pursue higher education after Class 12, in any discipline of a minimum of three years' duration.
Eligibility Criteria: The Santoor Scholarship programme is available to students from the states of Andhra Pradesh, Karnataka, Telangana and Chattisgarh only. To be eligible to apply, the applicants must have:

Passed Class 10 from a local government school.
Passed Class 12 from a government school/junior college in the academic year 2022-23.
Enrolled in a full-time graduate program beginning 2023-24.

Any application which does not meet the pre-requisites is liable to be rejected.
Wipro Cares reserves the sole right to offer the scholarship and also has the right to modify/reject/withdraw and/or discontinue the offer without assigning any reason. No other body/agency is authorized to make any offer on the Santoor Scholarship.
Mere application doesn't guarantee the scholarship.
Contact
In case of any queries, please reach out to:
011-430-92248 (Ext: 121) (Monday to Friday - 10:00AM to 6PM)santoor.scholarship@buddy4study.com
Frequently Asked Questions
Can students who passed Class 12 in 2022-23 apply for this scholarship if they're starting graduate studies in academic session 2023-24 after a gap year?

Yes, if the students have taken a gap year, they can apply for the scholarship. They must have enrolled in a graduate programme in 2023-24.

Can students who've attended their Class 10 and 12 at any school apply for this scholarship?

No, only those students who have passed Class 10 and Class 12 from government schools may apply for this scholarship.

Is this scholarship programme open for students who are currently in 2nd or 3rd year of graduate studies?

No, only students who have enrolled for the 1st year of full-time graduate programmes at any recognized educational institution are eligible to apply for this scholarship.


How will the selected scholars receive the scholarship award for the Santoor Women's Scholarship?

Selected scholars will receive the scholarship amount as a direct benefit transfer to their bank account.
In order to avail the scholarship, the students should have their account in any nationalized bank only. However, bank accounts of Gramin Bank will not be allowed. In case a student holds an account at Gramin Bank, such details will not be accepted.

Disclaimer
All the information provided here is for reference purpose only. While we strive to list all scholarships for benefit of students, Buddy4Study does not guarantee the accuracy of the data published here. For official information, please refer to the official website. read more